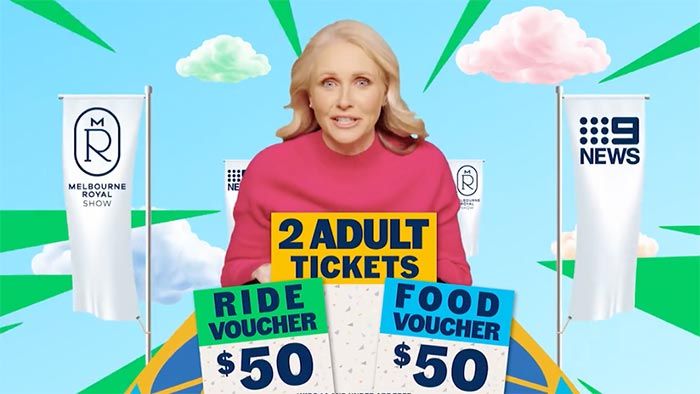 Win 1 of 250 Family Fun Passes to the Melbourne Royal Show!
9News Melbourne is giving away 250 Family Fun Passes to this year's Melbourne Royal Show!
Saturday's 2/9/23 Codeword – RIDES
PREVIOUS CODEWORDS: Friday's 1/9/23 Codeword – HORSES | Thursday's 31/8/23 Codeword – WOODCHOP | Wednesday's 30/8/23 Codeword – SCONES | Tuesday's 29/8/23 Codeword – COWS | Monday's 28/8/23 Codeword – FAIRYFLOSS | Sunday's 27/8/23 Codeword – SHOWBAGS |
Entry Type:
Email Sign Up
Ends:
02 09 23 @ 11:59 pm
TO ENTER: Watch 9News each night at 6pm to collect the codeword and enter your details for your chance to Win.
BRIEF TERMS & CONDITIONS: Promotional Period Start Date: 27/08/23 at 6pm AEST End Date: 02/09/23 at 11:59pm AEST Eligible entrants Permanent residents of Victoria aged 18 years and over who are not ineligible to enter the Promotion under clause 2 of the Terms and Conditions (Entrants) Entry Method 1. Watch 9News each night (Sunday – Saturday) at 6pm AEST during the Promotional Period to obtain the code word for that night. 2. Visit www.9news.com.au/theshow23 and locate the promotional entry form. 3. Enter the applicable nightly code word to be eligible to enter the applicable prize draw allocated to that night. 4. Complete all requested details including full name, birth year, postcode, contact phone number and email address and submit the completed entry form. Maximum Entries Limit of one (1) entry per day, subject to each entry being submitted separately and in accordance with entry requirements set out in Entry Method. Once an Entrant has been drawn as a winner, they will be ineligible to be drawn again. Winner Determination Game of chance. Skill plays no part in determining the Winners. There will be one (1) draw conducted for each night of the Promotional Period, for a total of seven (7) draws. Entries close for each draw at 11:59pm AEST each night of the Promotional Period. All draws will be conducted electronically by computerised random draw at Anisimoff Legal, G13, 3 Amy Close, North Wyong NSW 2259 at 10am AEST on the next business day after each week night, from 28/08/23 to 04/09/23 inclusive (7 draws in total). For clarity, no draws will take place during weekends or NSW public holidays. Non-winning entries in each draw will NOT roll over into subsequent draws. The Winners from the first five (5) draws will be the first thirty six (36) valid entries drawn from 28/08/23 – 01/09/23. Then the Winners from the final two (2) draws will be first thirty five (35) valid entries, both drawn on 04/09/23. The Promoter reserves the right to draw additional reserve entries, and record them in the order drawn, in the event that an invalid entry is drawn or an Entrant drawn is ineligible. Number of Winners 250 (36 per draw for first five (5) days, 35 per draw for final two (2) days) Winner Notification Winners will be notified by telephone and email within 5 business days. Prize/s Each Prize consists of a group pass (4 x adult tickets) to the Melbourne Royal Show, valued at $188. Tickets will be administered through a redemption link where Winners will have to choose their attendance date before receiving the digital tickets. Winners will be responsible for their own travel to and from the Melbourne Royal Show. Total Prize Pool AUD$47,000.
Other Codeword Competitions
Must be logged in to review or comment below.
{{ reviewsTotal }}
{{ options.labels.singularReviewCountLabel }}
{{ reviewsTotal }}
{{ options.labels.pluralReviewCountLabel }}