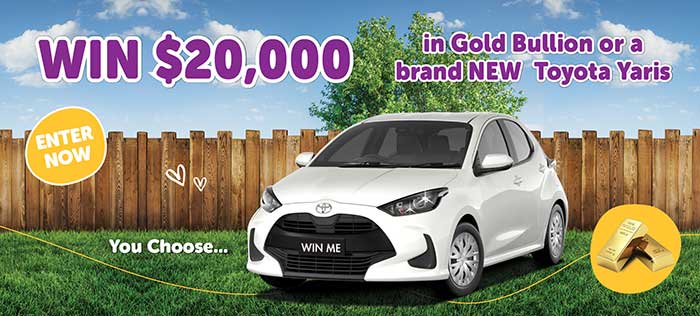 Win a Toyota Yaris Hatch or $20,000 in Gold!
Win $20,000 Cashable Gold Bullion or A Toyota Yaris Ascent Sport Hatch!
Category:
Lottery-Charities
Prize Type:
Car–4WD–Caravan
Ends:
11 12 23 @ 11:59 pm
TO ENTER: Tickets $30 – Each ticket purchase supports our work in keeping children safe from violence.
BRIEF TERMS & CONDITIONS: First Prize Option 1: $20,000 Gold Bullion. First Prize Option 2: Toyota Yaris Ascent Sport Hatch 1.5L petrol 5 door Hatch Auto CVT valued at $28,607 Includes Stamp Duty, Registration & CTP Insurance. Close Date: Monday 11 December 2023 at 11:59pm AEST. Main Draw Date: Wednesday 13 December 2023 at 12:00pm AEST. Drawn: 36 Industrial Avenue, Molendinar QLD 4214. Winners will be notified promptly by telephone and the Lottery results will be published on websites www.amfraflles.com.au and www.aspireconsulting.com.au on 13 December 2023. No persons under 18 years of age are permitted to enter.
Other Related Competitions
Must be logged in to review or comment below.
{{ reviewsTotal }}
{{ options.labels.singularReviewCountLabel }}
{{ reviewsTotal }}
{{ options.labels.pluralReviewCountLabel }}