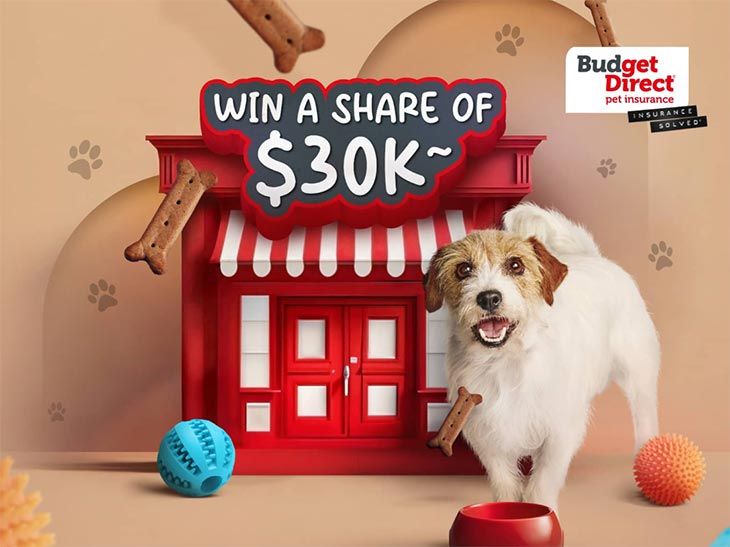 Pet Insurance – Win 1 of 3 $10,000 Cash prizes!
We are giving you the chance to Win 1 of 3 $10,000 cash prizes, simply get a Pet Insurance quote!
Category:
Product Purchase
Entry Type:
Buy a Product
Prize Type:
Cash–Vouchers
Ends:
31 01 24 @ 11:59 pm
TO ENTER: Get a quote for Budget Direct Pet Insurance and fill in the online entry form for 1 entry. Don't forget to record your quote number so you have it handy when you fill in the form.  You can enter in all three prize draws and each pet you quote for counts as an entry.
BRIEF TERMS & CONDITIONS: The Promoter is giving entrants the chance to win one (1) of three (3) $10,000 cash prizes (each a Prize) paid by electronic transfer when they complete a quote for a new Budget Direct Pet Insurance policy and complete an online form (Promotion). The Promotion commences at 12:00 am AEST on 1st November 2023 ends at 11:59pm AEST on 31st January 2024 (Promotion Period). A maximum of one (1) entry into the Promotion will be awarded for each pet during each Prize Period, regardless of whether there are multiple completions. Entrants may enter all draws and must enter each draw separately (maximum three (3) entries per pet for the Promotion Period in total). There will be three (3) draws at 10:30 am (AEST) on 4th December 2023, 11th January 2024 and 5th February 2024 (each a Prize Period) with 1 winner drawn each Prize Period. The winners will be notified via email within two (2) business days. Eligibility and participation criteria apply. Does not apply to existing policies or renewals.
Other Related Competitions
Must be logged in to review or comment below.
{{ reviewsTotal }}
{{ options.labels.singularReviewCountLabel }}
{{ reviewsTotal }}
{{ options.labels.pluralReviewCountLabel }}