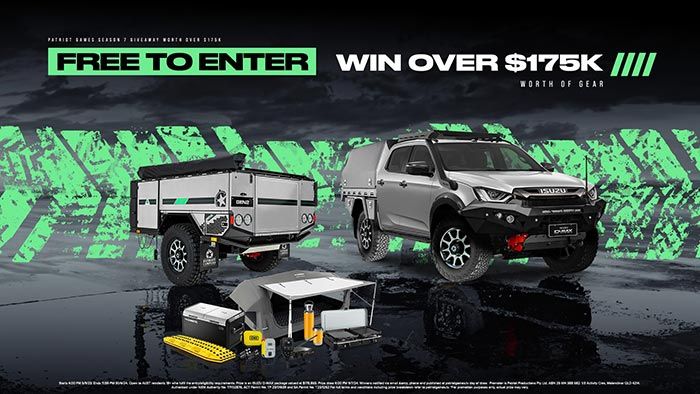 Win a Next Gen Explorer package worth $178,865!
Win the Next-Gen Explorer Package – featuring a 2023 Silver D-MAX paired with a GEN2 Patriot Camper.
Category:
Online Free Entry
Entry Type:
Email Sign Up
Prize Type:
Car–4WD–Caravan
Ends:
30 06 24 @ 11:59 pm
TO ENTER: Simply enter your details in the form. For additional entries, purchase a participating product and then visit the competition website and complete the required details on the online entry form, including the upload of legible proof of purchase.
BRIEF TERMS & CONDITIONS: Entry to the Promotion is open to Australian residents in all eligible states/territories
who fulfil the method of entry requirements and are 18 years of age or older. Start: 11 Sep 2023 4:00 PM End: 30 Jun 2024 11:59 PM No entries will be accepted outside this time." Prizes: "ISUZU D-MAX SILVER with Tow Bar Kit & Tow Bar Wiring Harness (12 Pin Flat) $66,278.72" "Patriot Campers X-Series Camper Trailer" 44990.00 "PCOR® Wheels 17×9 (Machined Wheels 261)" 2076.00 "PCOR® Trail Connect $979.00" "GME XRS-370C UHF $589.00" "GME 580 HEAVY DUTY COLINEAR ANTENNA $289.00" "GME MT610G PLB & CARRY CASE $25.99 Front Runner Roof Rack $1,719.00 FRIDGE/FREEZER, 75LTR $2,099.00 Dometic Drinkware pack $139.93 Dometic Cadac 2 Cook 3 Pro $329.00 Dometic Pico 2×2 $799.00 Hayman Reece Tow Bar $2,197.73 Offroad Animal Rock Sliders $1,700.00 Offroad Animal Front Bar (Hoopless Predator Bull bar) Predator Bash plate & Under Panel $2,950.00 MAXTRAX, RECOVERY TRACKS, XPERT, PAIR (PCOR) $549.00 MAXTRAX MOUNTING SET (4 PINS) $49.99 GVM Upgrade Suspension $3,700.00 Torqit Exhaust $1,490.00 Tray and Canopy Kit $38,968.00 REDARC 120w Solar Panel $289.00 Mud Terrain Tyres $1,890.00 REDARC PRIME REDVISION SYSTEM $3,669.00" "REDARC 1000W Inverter $1,099.00. Total prize pool (inc GST): $178,865.36. Prize draw A random prize draw, in the presence of an independent scrutineer, will occur 4:00 PM on 09 Jul 2024, Location of draw: Trade Promotions and Lotteries Pty Ltd Level 2 11 York Street Sydney NSW 2000. Winners will be notified via Email & phone no later than 09 Jul 2024. The winners of all prizes will be published here: https://patriotgames.tv/ on 09 Jul 2024.
Other Related Competitions
Must be logged in to review or comment below.
{{ reviewsTotal }}
{{ options.labels.singularReviewCountLabel }}
{{ reviewsTotal }}
{{ options.labels.pluralReviewCountLabel }}